Office Plants
Why should I add office plants to my workspace?
Office plants are a brilliant way to improve the visual design of your workspace and help your team reconnect with nature. On top of this, they also deliver a range of physical and mental benefits.
For example:
I have a large office, which office plants should I buy and where in my workspace should I add them? 
Each organisation is unique in its identity, culture, vision, and challenges. That's why we provide bespoke designs for each project to ensure your new office plants truly work for your space.
To give a few examples:
An organisation suffering from poor indoor air quality would benefit most from opting for NASA-approved air-purifying office plants.
Meanwhile, an organisation with limited floor space may want to focus on wall & ceiling planting. Rather than reducing floor space further with floor-standing displays.
Equally, an organisation with a strong brand identity may want to use office plants & planters that match their brand colours or even incorporate a moss logo.
To get a better understanding of what plants & other biophilic elements are best for your workspace – book a consultation using the button below.
If I'm only looking for one or two plants for my office, what are the best options?
With so many office plants varieties in existence, you may find yourself struggling with which plants to buy for. That's why we've put together this hand guide on the best office plants if your looking for one or two plants.
Most guides focus on ranking office plants based solely on whether they're low maintenance. This is a mistake, as there is a multitude of more important criteria when it comes to purchasing office plants and besides, we can take care of maintenance for you.
Firstly, people primarily buy office plants for the visual benefit. Therefore, it makes sense that this is one of the key criteria we evaluated when creating this list.
Beyond visual improvement, people also purchase office plants to help improve physical and mental wellbeing. While almost all office plants you introduce can help reduce stress and anxiety and improve cognitive performance. There are only a few that feature on NASA's list of plants that improve air quality or combats dry skin through increased humidity.
After crafting a list of beautiful plants that boost well-being we turned our attention to the other criteria including ease of care, cost, versatility, and average lifespan. All of these criteria were the basis for ensuring this guide is the best on the internet.
The 11 best office plants: Kentia Palm
During the 18th and 19th Century the Kentia Palm was the indoor plant of choice for the upper classes – prominently featuring in the lobby of the Ritz Carlton and on the lower decks of the RMS Titanic.
Today, the Kentia Palm is a staple office plant, and for good reason. Stunning, exotic, low maintenance, and long-lasting it's incredibly hard to find a workspace it looks out of place in.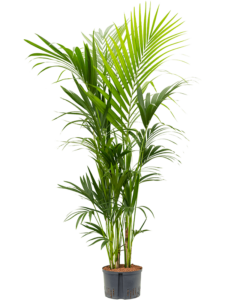 The 11 best office plants: Prayer Plant
The prayer plant is an office plant that is guaranteed to turn heads. Unfortunately, it's a nightmare to cultivate and maintain for the average plant hobbyist.
Luckily, here at Exubia, our plant care experts have a wealth of experience looking after prayer-plants.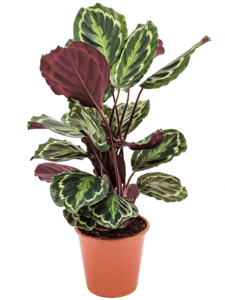 The 11 best office plants: Cast Iron Plant
Granted its nickname due to its ability to withstand almost anything can survive temperatures as high as 30°C and low as -10°C. Beyond temperature – it can also cope with dry soil, deep shade, and extreme air pollution. 
If you often find yourself killing office plants then the Cast Iron Plant might just be your best option.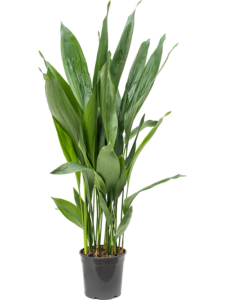 The 11 best office plants: Aglaonema "Cherry Baby"
One of the lesser-known office plants on this list, we chose the Aglaonema Cherry Baby due to its striking appearance.
Originating from the tropical rainforests of South-East Asia, it's the perfect choice for those searching for an office plant that can make a visual impact in their space.

The 11 best office plants: Snake Plant
A classic choice for home or office due to its stunning appearance and ease of care. It's also one of the plants featured on NASA's list of air-purifying plants. 
Want to improve the aesthetics of your workspace while also safeguarding yourself from indoor air pollution? The snake plant is the right choice for you.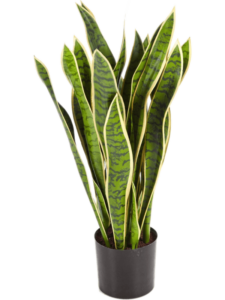 The 11 best office plants: Devils Ivy
Devils Ivy makes our list of best office plants due to its versatility. Whether you're looking for a hanging plant, larger floor-standing display or desk plant you can find a variation of Devils Ivy to suit.  
Much like the Snake Plant, it's also on the NASA list of air-purifying plants. Meanwhile, visually it offers a fantastic burst of texture and colour to your space.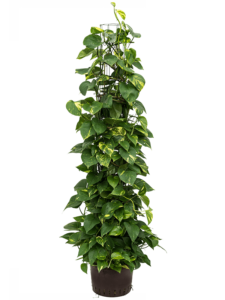 The 11 best office plants: Swiss Cheese Plant
Another office plant you are likely to be familiar with.  The Swiss Cheese Plant is a great all-rounder that looks fantastic in any office. 
Bonus fact: In it's native home – the wilds of Southern Mexico and Panama, it actually delivers fruit. The fruit looks similar to a banana when cut open. People describe the taste as a combination of Pineapple, Mango, Passion Fruit & Strawberry.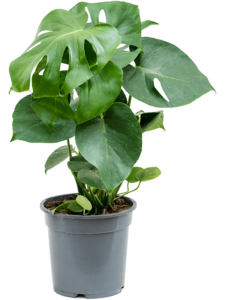 The 11 best office plants: Janet Craig
A great choice for those looking for low-maintenance plants, introducing a Janet Craig is a great way to add depth to the interior design of your workspace. 
It's best to keep this one at work and avoid introducing it in your home office though as it is toxic to both dogs and cats.
The 11 best office plants: ZZ Plant
Similar to the Aspidistra, to kill or damage the ZZ Plant – you'd have to try fairly hard. Due to its unique appearance – it is a choice that is guaranteed to stand out from other plants in your space.
Native to Eastern Africa, the juice from the leaves of the ZZ plant is often used to treat earache.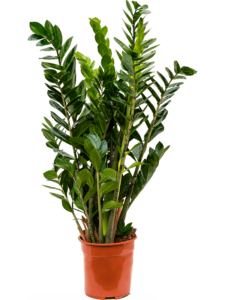 The 11 best office plants: Dragon Tree
Another addition from the ever-popular Dracaena family, the beautiful red edges make it a firm favourite among biophilic designers whilst in the background, it also helps improve air quality. 
Interestingly, its botanical name – Dracaena Marginata stems from the Greek word "Draikana" which literally translates to "Female Dragon".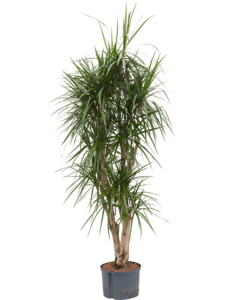 The 11 best office plants: Peace Lily
Last but not least, the Peace Lily is a must-have in any office plant collection. It's low maintenance, fights air pollution, and improves humidity.
Additionally, the stunning white flower stemming from its base adds an elegant touch to your space.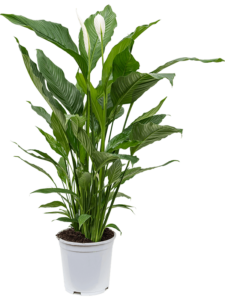 What's the best way to maintain my office plants?
Studies have shown 1 in 5 people find caring for office plants more stressful than the prospect of root canal surgery. That's why we'd recommend hiring a plant provider to take care of your plants for you.
Taking care of plants yourself is also often more expensive. If you fail to look after your plants properly (or accidentally leave the wrong person looking after them while you're on holiday) you can end up replacing them every 2 to 3 months. Which as a result, could cost you thousands of pounds.
Furthermore, it can also be incredibly costly in terms of time – not only will you need to spend hours learning through trial and error how to take care of the plants but you will also then need to dedicate hours each week to plant care.
Here at Exubia, we have over 45 years of experience in office plant care. As a result, if you choose us, you can save time, money, and rest easy knowing your plants will always look perfect.
Why should I purchase my office plants from Exubia?
Creativity: Our designers push the boundaries of creativity to deliver designs that truly transform your space.
Sustainability:  Whether it's the water & energy used to grow the plants, the compost, the planters, or even the delivery fleet. We are committed to making every part of our supply chain more sustainable.
Choice: We have a wide range of the most stunning office plants on the market. Whether you're looking for interior, exterior, live, artificial, floor standing, or hanging plants – we have you covered.
Cost:  We are experts at engineering our clients the most value for their budget.
Customer Care: We pride ourselves on our commitment to making office planting as easy, hassle-free, and enjoyable as possible.