The Ultimate Guide to Artificial Office Plants
Why choose artificial office plants?
Unlike live office plants, artificial plants require next to no maintenance and are the perfect options for companies that lack sufficient natural light in their space. This makes them the perfect choice for a wide array of companies.
Although there's a pre-conception that artificial plants are less visually appealing than their live counterparts this couldn't be further from the truth.  Every year, artificial plants get more and more realistic and now they have improved to such a degree that many are indistinguishable from the real thing.
What are the benefits of artificial office plants? 
There's a common misconception that the well-being benefits of plants are exclusive to live plants. Although artificial plants can't improve air quality or humidity they can have a big impact on mental wellbeing.
Researchers from the Netherlands found that simply looking at photos of nature is enough to reduce stress levels. Therefore, it's perfectly reasonable to expect that these benefits can be stretched to realistic replicas of live plants.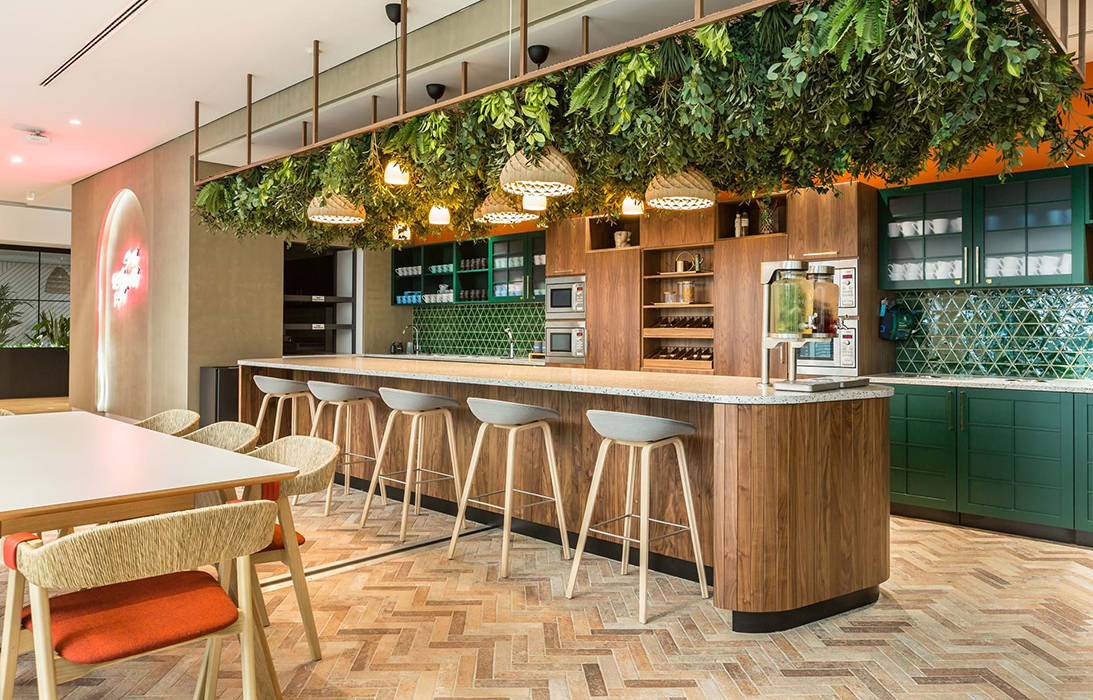 What are the 10 best artificial office plants for my space?
Each workspace is unique and each company is unique in its culture and identity. Therefore, there's no set list of plants that work best in every space. That being said, there are a few general guidelines and recommendations that can help you pick artificial office plants.
Firstly, if you're opting for floor-standing plants, desk plants or plants in any location where your staff will be near them it is really important to invest in hyper-realistic plants. In hanging displays and beds out of reach, choosing hyper-realistic artificial plants is less important but if you have the budget then they can still make the displays look slightly nicer.
Secondly, if you want to air on the side of caution and don't want your artificial plants to be detected – it's best to opt for artificial plants that are rubbery in real life. Plants like succulents naturally have a hard and plastic-like exterior which makes it even harder to distinguish the faux ones from the real thing.
Additionally, don't limit yourself to a single artificial plant when creating floor-standing displays. Grouping floor-standing plants into larger displays of 2 or 3 plants can increase how dense the foliage looks.
Finally, using plants in a mirrored format is a great way to bring a sense of symmetry to your space. Especially when two plants are anchored around another interior design feature used as a centrepiece.
What other ways can I make my artificial office plants look more realistic?
One of the simplest ways to make your artificial plants look more realistic is simply by fluffing out the leaves. Quite often artificial plant leaves have been crammed down during transport so spreading the leaves back out will make them look a lot fuller.
Another critical step is to dress the base.  Our design & installation team often use a range of hydro-granules, stones, moss and sometimes even real compost to help ensure that they have the same earthy base as live plants, In turn, this makes faux planting even harder to distinguish when compared to real-life plants.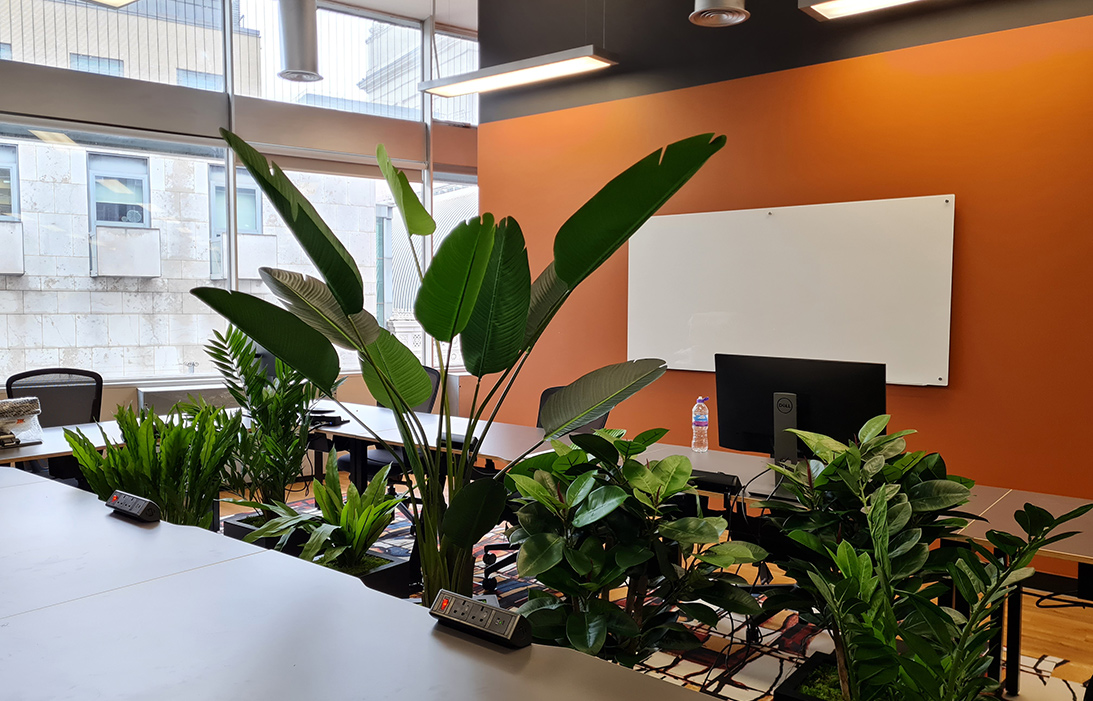 How do I maintain my artificial office plants? 
Although artificial plants require next to no maintenance, sometimes they may require a small amount of cleaning to keep them looking pristine.  For internal plants, one of the main things that will detract from their appearance is dust.
The best way to remove dust is to take the soft brush on a hoover and run it over the artificial leaves and around the trunk. Placing a hand behind the leaves as support while running the brush over the face will ensure that all areas of the leaf are effectively hoovered. Alternatively, a damp cloth with warm water or a standard duster can be used on the artificial foliage.
For external plants, dust is unlikely to be an issue. However, it's still likely residue will build over time from exposure to the elements.  Utilising a damp cloth is the most effective way to remove residue that may build up on the foliage after time outdoors.
The one thing to avoid when clearing your artificial plants is placing them in the dishwasher. Doing so could cause the colours to run or tear the plants apart completely. Equally, it's best not to run them under water or soak them if you don't want to maintain the original colour of the plant.
We're looking to reduce our plastic use, what are the plastic-free alternatives to artificial office plants?
We talk to a lot of companies who don't want to maintain live plants but are also looking to reduce their plastic use. 
As the demand for more sustainable alternatives has grown, preserved planting has come into its own. Wondering what kept planting is? To put it simply, it's previously live plants that have been dehydrated.
After the plants have been dehydrated, they are then soaked in an environmentally friendly preservation solution before being dried again so they maintain their appearance.  Often they are dyed in different colours after they have been dried.
If you're interested in incorporating preserved planting into your space then get in touch and our design team will be happy to assist you.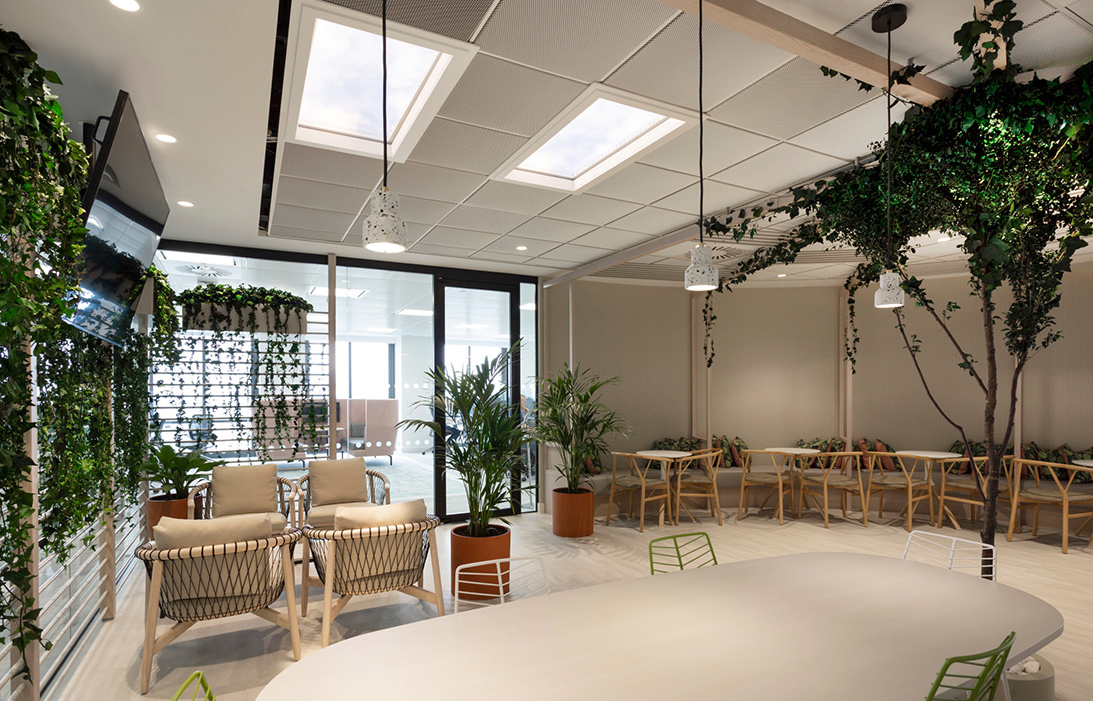 How do I stop my artificial office plants from fading? 
Although it may not be something you've previously considered, artificial plants often fade in the sun. The plants that are most at risk are external artificial plants which experience prolonged U.V exposure.
The smartest move is to buy artificial plants that are already U.V resistant. If you have already bought non U.V resistant artificial plants then not to worry. U.V proofing spray can be applied to your plants to protect them.
Most indoor plants should be okay without any treatment or though if they are in an exceptionally sunny area then applying U.V proofing spray shouldn't be a problem.
If I buy my artificial office plants online, how do I ensure they are of good quality?
The best way to ensure you are happy that your new artificial plants are high quality and realistic – it's best to ask for a sample from your suppliers.
Most suppliers should be able to send a sample but if they can't then asking to see them over video in real-time is a great way to get an accurate idea of how they will look in your space.