COLT TECHNOLOGY
Modern Indutrial Interior Planting
CASE STUDY #7
Monochrome planters in strong angular shapes pack a punch in this smart office space. Alongside the unique black frame room dividers, planting fills a number of our Modern Mediterranean planters in a high lacquered white finish. Several cacti add a prickly coolness to the space, bringing it directly on trend.
PLANTING FOCUS
From the Bonsai in the corner, to the line-up of small succulent type plants in the room dividers… everything remains a lush green, with no bold splashes of colour or flowering plants. While the real feature planting is around the central open-plan 'HUB' of Colt's offices, there is also a simple planting scheme that runs throughout the office spaces.
 FEATURE PRODUCTS
White gloss Santo and Pietro planters from our Modern Mediterranean collection. Bespoke troughs in matt black for the metal room divider. Other planters remains more simple, mostly from our Chameleon range, relying on neutral colours and strong outlines to create their impact.
LOCATION
Colt House, 20 Eastern St, London, EC2A 3EH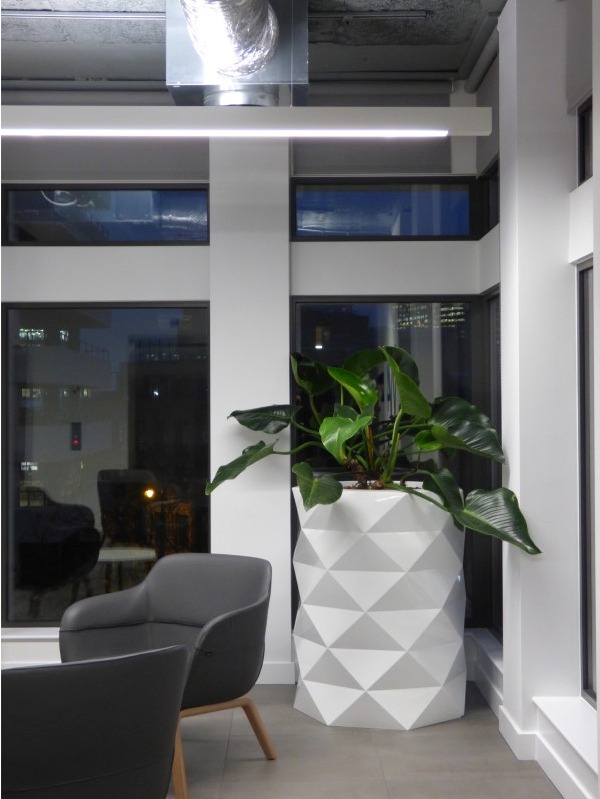 COLT TECHNOLOGY
Mediterranean-style Roof Terrace Planting
CASE STUDY #7
A stunning wooden roof terrace was crying out to be embellished with planting. The clients, working with a designer through Mace Macro, specified they wanted a relaxed Mediterranean style to the planting, incorporating a herb garden in the middle raised planting bed. Whilst looking incredibly cool, the herbs could also be used for cocktails at the bar.
PLANTING FOCUS
Huge stripy agave's, olive trees, and several palms create height on th is carefully considered planting scheme. Wild grasses, festuca, lavender, and bedding plants such as sempeveriums and low herbs, create the underplanting, whist trailing jasmine climbs the trellis.  All that we're lacking now is the Mediterranean climate to accompany the planting!
 FEATURE PRODUCTS
All of the planters were supplied by the client, and built as part of the roof terrace scheme by the designer. Exubia supplied the waterproof liners for all of the troughs, and matched the planting style to that of a Mediterranean garden, with lush and varied species in a palette of greens and blues.
LOCATION
Colt House, 20 Eastern St, London, EC2A 3EH