The 50 best (& worst) desk plants for your office
The 50 best (& worst) desk plants for your office
Recently, Google Trends data has shown that searches for "why is my plant dying' have hit the highest point in internet history.
To help struggling houseplant hobbyists, the team here at Exubia analysed over 5 million Google searches (using SEMrush) for 50 popular houseplant species to uncover which plants Brits struggle looking after the most and which they find easy to care for.
Every search relating to a plant dying, curling, going brown or yellow, drooping, wilting or attracting flies was tallied and then divided by the total number of searches for the plant so that the popularity of the plant was accounted for.
From this, we pulled data on what percentage of the searches for the plant were related to it being a nightmare to keep alive. Here's what we found:
The 10 easiest office plants to care for
Cacti – 0.7% of searches about the plant were about it dying
Asparagus Ferns – 0.76%
Begonias – 1%
Sweetheart Hoyas – 1.4%
English Ivy- 1.61%
Flaming Katy's – 1.65%
Lipstick Plants – 1.8%
String of Pearls – 1.9%
Haworthias – 1.91%
Spiderworts – 2%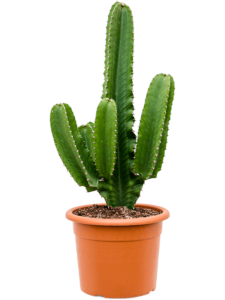 The 10 hardest office plants to care for 
Peace Lily – 14% of searches about the plant were about it dying
Aloe Vera – 12.1%
Fiddle Leaf Fig – 9.7%
Kentia Palm – 9.1%
Lucky Bamboo – 9%
Dumb Cane – 8.2%
Spider Plant – 8.2%
Areca Palm – 8.1%
Prayer Plant – 6.7%
Parlour Palm – 6.6%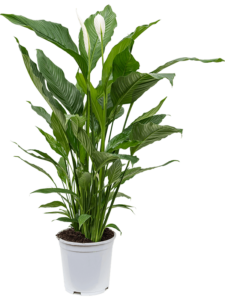 As the data shows, Cacti are the easiest plants to look after out of all houseplant varieties. This is unsurprising due to the physical characteristics they've developed to deal with prolonged drought in their native habitat.
As a result, if you forget to water them for a week or two it probably won't matter too much.
On the opposite end of the spectrum, Peace Lilies present the biggest challenge for houseplant enthusiasts. The data showed that the biggest problem with these beautiful plants is that they are prone to turning brown easily.
Most surprisingly Aloe Vera, which is usually considered a low-maintenance plant, was also very prone to turning brown and then dying.
Besides choosing a low-maintenance plant, there are two other hacks we'd recommend that will help keep your house plants alive.
Quite often houseplant enthusiasts water their plants on a schedule but this won't account for the variance in temperature and light throughout the seasons. Instead, every other day, dip your index finger knuckle deep into the soil. If the soil is moist then it doesn't need any more water, if it's dry then it's time for a top-up.
This method will ensure your plant consumes water as and when it needs it.
The second hack we'd recommend is placing your houseplant in the brightest spot possible.  While some plants are labelled as shade-loving, the reality is that indoors in the UK, it's very unlikely your plant will get too much light.
The full list of the 50 best (& worst) office plants can be found here:
Cactus – 0.7%
Asparagus Fern – 0.76%
Begonia – 1%
Sweetheart Hoya – 1.4%
English Ivy- 1.61%
Flaming Katy – 1.65%
Lipstick Plant – 1.8%
String of Pearls – 1.9%
Haworthia – 1.91%
Spiderwort – 2%
African Violets – 2.1%
Croton – 2.2%
Aspidistra – 2.3%
Jade Plant – 2.3%
Philodendron – 2.5%
Money Tree – 2.6%
Moth Orchid – 2.8%
Nerve Plant – 3%
Staghorn Fern – 3%
Swiss Cheese Plant – 3%
Dwarf Umbrella Tree  – 3.1%
ZZ Plant – 3.1%
Snake Plant – 3.2%
Boston Fern – 3.3%
Dragon Tree – 3.6%
Arrowhead Plant – 3.8%
Ponytail Palm – 4%
Chinese Evergreen – 4.1%
Birds Nest Fern – 4.3%
Janet Craig – 4.3%
Yucca – 4.7%
Alocasia – 4.9%
Stromanthe Triostar – 5%
Bird of Paradise Plant – 5%
Devils Ivy – 5.1%
Laceleaf – 5.2%
Chinese Money Plant – 5.2%
Sago Palm – 5.3%
Footstool Palm – 5.7%
Rubber Plant – 6.1%
Parlour Palm – 6.6%
Prayer Plant – 6.7%
Areca Palm – 8.1%
Spider Plant – 8.2%
Dumb Cane – 8.2%
Lucky Bamboo – 9%
Kentia Palm- 9.1%
Fiddle Leaf Fig – 9.7%
Aloe Vera- 12.1%
Peace Lily – 14%